California to Arizona Movers
Quick Read
As a full-service moving company, we offer a wide-range of moving, packing, and storage services designed to make your move easy. These are all completely tailorable to what you need. These include:
Packing and Unpacking
Both Residential and Office Moving
Secure Warehouse Storage With 30 Days Free
Specialty Moves (Antique Movers, Senior Movers, and More)
Here are some of the reasons to trust Yolo Transfer:
Trusted Since 1973
ProMover Certified by the American Trucking Association Moving & Storage Conference
Fully Licensed and Insured, CAL-T 189819
Get your
free quote
from Yolo Transfer for your interstate move. Reach out to us at
(530) 668-1007
if you have any questions about our services.
Are you moving from California to Arizona? Make your move simple and go with a moving company with the expertise to handle your transition with ease. Not only do we have experience since 1973, but we have all the services you need matched with expert customer care. Our long-distance moves are consistently great because we are an interstate agent of Bekins Van Lines. That means we have access to over 500 agents coast-to-coast, allowing us to take you anywhere in the United States, including anywhere in Arizona. You Only Live Once, so get your top-quality move with Yolo Transfer!
Services for Moving From California to Arizona
When looking for interstate movers to take you from California to Arizona, be sure to get a moving company that can handle every aspect of your move. Here at Yolo Transfer, we are proud to be full-service movers. To make your move simple we offer:
Packing and unpacking that can be tailored to your needs.
Residential moving services and office moving services are both available.
Warehouse storage with climate-control and 30 days of free storage.
Expertise in specialty moves such as piano moving, gun-safe moving, and more.
Trust professional movers that offer the services that you need and the services that you may need. With Yolo Transfer you'll be able to move from California to Arizona with peace-of-mind.
Comparing Arizona and California
Arizona and California may share a border, but their proximity doesn't translate into too much similarity. When moving from California to Arizona, expect some big changes. Here are just a few things to expect:
Cost of Living: You'll find that the cost of living in Arizona is lower than in California across the board. That includes what you'll spend on groceries, transportation, housing, childcare, and clothing.
Taxes: Not only will you save a buck with cost of living, but on your taxes too. In Arizona you'll find an individual income tax rate of 4.54%, which is less than half of California's individual income tax rate of 9.3%.
Weather: In the winter, you can expect very similar temperatures between California and Arizona. In the summer, California doesn't get nearly as hot as Arizona. The summer high in Arizona is around 105 degrees fahrenheit compared to about 84 degrees fahrenheit in California.
When preparing for an interstate move, you have to plan. That means planning not only for the move itself, but for life in your new home state.
What to See and Do in Your New Home State
During the moving process, don't forget just how exciting it is that you will be living in a new state! To help you plan what to explore when you make it to Arizona, we put together some of our top things to see and do in The Copper State: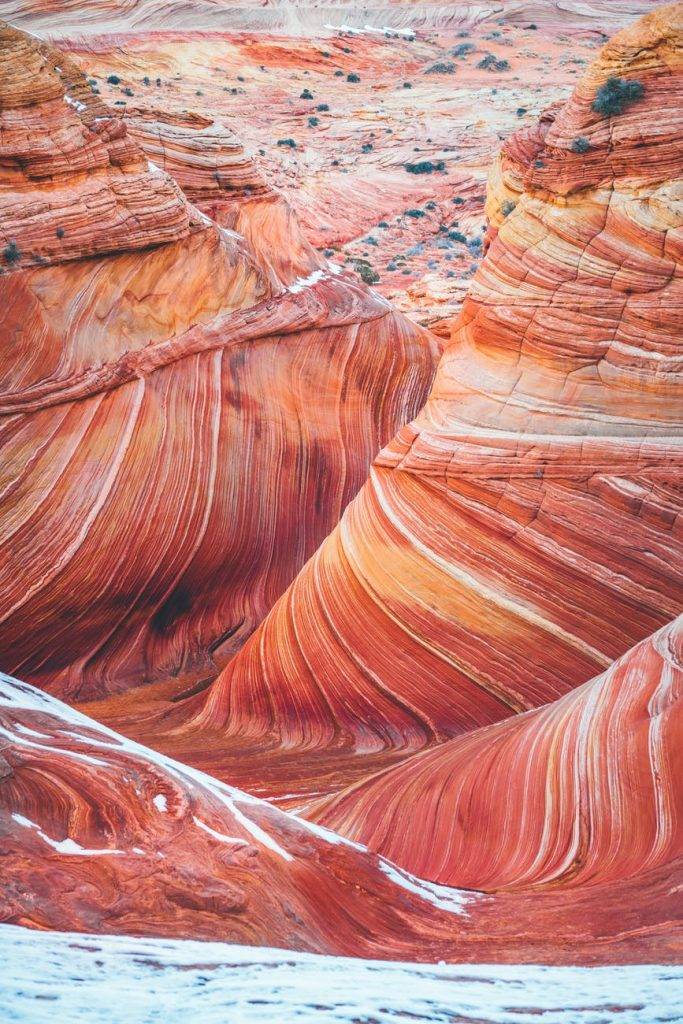 Grand Canyon: While this one may be a bit obvious, it's impossible to leave a wonder like this off the list. Take in the jaw-dropping breadth of the huge canyon and the gorgeous red and orange hues that make up the landscape. Different areas provide different views, so plan accordingly.
Arizona-Sonora Desert Museum: At this location, you'll find a zoo, natural history museum, botanical garden, art gallery, and aquarium. Plan to go here a few times so that you can hit every spot.
Mill Avenue District: This section of downtown Tempe is your stop for shopping, food, and great nightlife.
O.K. Corral: While not the technical site of the "Gunfight at the O.K. Corral", there are plenty of ode's to this fascinating event. This is the perfect place for those who love the wild west. Be sure to check out one of the reenactments of the gunfight.
These are just a few of the many attractions in Arizona. Be sure to check them all out and then explore the rest of the state and find some hidden gems! There's no shortage of things to see in Arizona.
Get Your Free Long-Distance Moving Quote
By choosing Yolo Transfer as your interstate moving company, you're getting movers that have experience since 1973, who are A+ rated by the BBB, and who are certified ProMovers by the American Trucking Association: Moving & Storage Conference. Before your move, be sure to check out our
Buyer's Guide to a Successful Relocation
. Get a
free quote
for your Arizona to California move! If you have any questions or want to learn more about our services give us a call at
(530) 668-1007
.