Long-Distance Movers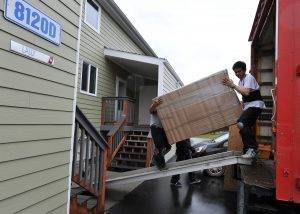 Moving out of state is often a time-consuming and personal process. Don't let the stress and logistics get to you! Since 1973, Yolo Transfer Moving & Storage has been servicing hundreds of moves each year. We're part of a network of nationwide movers which consists of over 400 agents! This gives us valuable resources to make your move easier. Paired with our expertise and length of time in the moving and storage industry, we're structured perfectly to better serve our community compared to our competitors.
Our professional movers and moving representatives are with you from the beginning, designing a moving plan based around your budget, needs and schedule. We maintain constant communication between all parts of your move to ensure you have a relaxing, stress-free moving experience. If there's another service you'd like to add, feel free to contact our representatives at any point during your moving process.
Long-Distance Moving Companies–Picking the Right One
Selecting a moving company can be overwhelming. You probably have a ton of recommendations from friends and family, and there no shortages of ads online and offline. So, how do you know which one is right for you among the many long-distance moving companies?
Depending on your particular needs, choosing a mover may vary, but there are few key factors that remain constant:
Legal Status – Often the most critical, choosing a company that is fully licensed and insured. Any mover may claim to be licensed and/or insured, but until you can validate that information, don't take it at face value.
Intrastate Moves – Many states have rules and regulations to monitor the transport of household goods at a local level. For more information about those responsible for overseeing intrastate moves, contact the U.S. Department of Transportation and/or your local Public Utilities Commission (PUC).
Out-of-State Moves – For moves at a national level, contact the Federal Motor Carrier Safety Administration (FMCSA). This agency is responsible for giving permits to household goods movers that cross state lines.The FMCSA regularly audits on the safety, legal and economic levels to ensure consumer protection. This information is accessible to the public. FMCSA has a Safety and Fitness Electronic Records System that allows you to confirm whether or not a moving company is licensed.
Moving Company Reputation – Don't be easily fooled. Most companies pay for ads to attract customers. This doesn't mean that every moving company isn't honest–that's for you to decide. Comb through reviews of your potential mover. Just because a company may have a bad review, don't dismiss them. Look at how the company tackled the issue and then decide if they're the right movers for you.
Red Flags – If the moving company doesn't have a physical address, steer clear. Same if their site doesn't offer a free moving quote. Other red flags include asking for the money upfront, not providing an FMCSA booklet and/or unusually high or low price estimates.
Getting Your Long-Distance Move Started
Know where you want to move but not sure how to get started? You're not alone. Every day someone faces the challenges that come with properly planning their out of state move. Don't fret, let Yolo Transfer Moving & Storage help you get started:
Step 1: Request a Free In-Home Estimate
This one's easy! Simply fill out our free quote form to begin!
Step 2: Set Aside Time for A Moving Representative to Visit Your Home
Once you've received your quote, ensure you and your moving representative work together to schedule a home or remote visit to determine your final moving price.
A variety of factors may affect your overall moving price such as:
How heavy are your valuables?
How far away is your new home?
How much liability protection do you require?
Step 3: Determine Any Additional Services You Require
As with every move, there are items that have sentimental value or are larger-than-life and difficult to move–that's where we come in. To ensure that both your possessions and your home receive no damage, our movers carefully wrap, pad and pack all your items.
Not sure what we can handle? We handle everything! Our specialty movers are equipped with additional moving services, including:
Packing and Unpacking Services: Let us know if you need extra boxes, dollies or pads! We have loads of packing supplies for all shapes and sizes.
Shipping Services: Do you have over-sized furniture or large vehicles that can't fit on the truck? We offer long-distance shipping solutions, just ask!
Specialty Handling: We know a thing or two about moving fragile and valuable possessions such as safes, hot tubs, pools, large pieces of furniture and more!
Warehouse Storage Solutions: Is your new home not yet ready for that new hot tub? We have full-service, climate-controlled warehouse storage. Our warehouse is alarmed and under 24/7 surveillance, so you can rest assured that your items are protected at all times.
Warehouse Storage Solutions
Any length of time longer than three months is long-term storage. Less than that, and you're looking at storing your items for the short-term. Whether you're looking for short-term or long-term storage options, we're happy to help! We monitor our warehouse storage all day, 365 days a year and keep it under tight security. Additionally, our warehouse is climate-controlled so we can protect your items from moisture, mold or any other environmental damage. Whatever the reason might be, we can help you store your items for any length of time.
Affordable Moving and Storage from Yolo
At Yolo Transfer Moving & Storage, we are all about you. To that end, we will treat each and every move with care and precision. From creating your moving plan down to the last item moved, Yolo Transfer is dedicated to making your move as seamless and hassle-free as possible.
For more information, fill out our free quote form or call us by phone at (530) 668-1007.