13 Sacramento Local Moving Tips
There's no reason to downplay how stressful moving can be sometimes, but we're here with a few moving tips and tricks to help get you heading in the right direction. We can't promise you won't face unique challenges, not everyone can plan for everything. But, the silver lining with a local move lies in its convenience. If you're moving within the same area, your new home is more than likely ready to be moved into whenever you are, so now's your chance!
Tips on Getting Prepared
Direction and organization make a move efficient for all people involved, and it's better to put your best foot forward by researching some local moving companies that can help get your move underway.
#1 – Choose A Reliable Local Mover
A reliable local mover is one that knows the area really well. They understand the layout, traffic flow, and even know a shortcut or two to cut down on time. The local moving company of your choice should be able to save you, your friends, and your family from the pitfalls of moving. While it might make sense to handle a move by yourself, local movers offer great perks such as moving insurance, professional moving crews, and moving equipment. It's always better to err on the side of caution—
at least you'll be covered with a local moving company serving Sacramento.
Beware of movers that aren't fully licensed or insured. Always ask for their U.S. DOT and MC # if you'd like to check their references. Feel free to do that here. Check their
BBB
listing and their
Yelp
reviews as well. Sort through them and see how, if at all, they respond to comments both negative and positive. Take note of any responses toward negative reviews. These should be diplomatic in nature, with non-argumentative verbiage while providing the reviewer with an actionable step to resolve an issue or concern. You've chosen your local movers, so let's get started on making a plan!
#2 – Make a Plan
Now is not the time for procrastination. A successful move is a well thought out and organized one. As we mentioned before, one can't plan for everything—but you can sure as heck try.
Use a notebook or binder to organize and plan your move.
From to-do lists to the breakdown of your moving budget, everything regarding your move should be placed within your notebook or binder. Don't forget to build time into your plan for unforeseen events. It's always a good idea to check for any inclement weather, look at any traffic updates, and check-in with the local moving company of your choice like
Two Men & A Truck
,
Yolo Transfer
and
Allied
, to name a few. For either case, color coding can be your new best friend when it comes to prep work. Organizing your move into sections via colorful tabs or post-its can be handy, especially if you need to quickly find a receipt or estimate form. Whichever you decide, organization is key and will increase your chances of having a successful move. Now that you have your book or binder, it's time to create a list of the items you plan to pack, donate, sell or recycle.
Separate your inventory into four categories:

Setting up laundry baskets, extra boxes, or even large brown paper bags in advance gives you a quick and easy inventory system while you're packing up your home. Use what you've got!
#3 – Cancel and/or Switch Utilities
Before you move into your new place, you want to make sure you'll have all your amenities set up in advance. Will you need immediate WiFi access for online courses, work, or entertainment? Would you like to step into a home with functioning heat and air conditioning? Trust us, there's nothing more aggravating than being all moved in and having to wait a day or two for someone to come to your home and set up the wi-fi. Get the set up out of the way within the first few days before moving.
#4 – Prioritize What to Move and When
If you're lucky and your home is easily accessible, great! If it's not, prioritizing what to pack first is still an important step in any move. So, what
should
you pack first? There are two common methods that are applicable to any task that is worthwhile thinking about when deciding where to begin:
PRINCIPLE 1:
Tackle the most difficult part first. At the beginning of a project, you have the most energy, motivation, and ambition to challenge even the most daunting tasks. Use this to your advantage and take the time to declutter your attic, basement, and garage. Most of the time, these are your storage areas and have accumulated the most clutter. Before you begin packing, it may be worthwhile to
filter out what you don't need first
. This method can help reduce the risk of you "doing it later", and moving it all with you again to your new home.
PRINCIPLE 2:
It's easy to become overwhelmed with too much. Don't bite off more than you can chew and start with something simple. If you begin with the lightly furnished or barely-even-used rooms, you can power through clearing them out and using them as new storage spaces for the rooms you've already packed. Seeing a clean room can do wonders for motivation. If you can begin with clearing out a few rooms quickly, you can take the time to tackle the larger spaces over the course of a couple of days, instead of cramming it into the last day.
Either method will help you reduce stress while keeping your move organized and easy to accomplish.
#5 – This is Your Time to Declutter
Take this opportunity to scale down and get any unwanted junk out of your house and out of your mind. An upcoming move, even a local one, presents you with many opportunities to finally let go of things you've been holding on to for quite a while. Ensure that you place any items you find into the four categorized containers we mentioned earlier. This is a huge time saver. This way, you don't have to save a big task like sorting through an endless pile of junk for the end of the day.
Packing Tips
Here are just a few ways you can cut corners and save time while still managing to protect your belongings. Remember, pack responsibly: heavy items on the bottom, lighter items up top.
#6 – Mini Essentials Kit
Quickly prepare this little kit to ensure you don't have to go digging through 20 boxes for one little toothbrush. This kit should include items like:
Basic toiletries (including your toothbrush)
Quick change of clothes
Medication
Glasses or contacts
Chargers
Mini snack packs (for quick bursts of energy during a move!)
#7 – Don't Empty Your Dresser Drawers
You can save space and time by treating your drawers as mini containers. Simply remove the drawers from your dresser and wrap the drawers in plastic wrap to keep the contents secure. Or, if the dresser isn't too heavy, keep the drawers in place and wrap the entire dresser in plastic wrap, so your movers can load it onto a dolly and onto a moving truck. Easy.
#8 – Towels, Linens, and Fabric Are Useful!
If you have extra fabric lying around, some sheets, comforters, and/or towels, put them to good use! These types of items are perfect for extra padding in boxes or safely wrapping sharp or dangerous tools such as knives.
#9 – Label Your Boxes
Make sure you're labeling your boxes before you begin packing, or before you pack your last item. You should use a large tag or sticker with a short description of what the box contains and in which room it should be placed. This will help our Sacramento movers put it in the right room for you. Go a step further and take a picture of the contents on your phone before you seal it. While you won't get every item in the picture, you'll have a general idea of what's in the box if you need quick access.
#10 – Electronics Setup
Take a picture of the back of any electronic devices you have set up in your home. If you haven't set up your television or computer since you first received them, it can be tricky trying to set them up again. By having a picture on your phone of how it was connected, you should be able to easily set up your TV and computer. Don't forget to ask your local Sacramento movers if they can help. They'll generally have at least one on staff that is electronically savvy enough to help you get connected again.
#11 – Don't Waste Food
It's easy to get into the swing of things and throw away a ton of food, but that's so wasteful! Instead, think about mixing breakfast, lunch, and dinner! Create a game out of the meals you can create with what's left in your pantry. If you're not the adventurous type, try donating your food items to a local food pantry. You never want to donate anything past its' expiration date, anything that's broken or any used food items. Contact your local food pantry for proper food donation guidelines, or ask your mover if they participate in Move For Hunger. Many Sacramento local movers do.
Moving Day Tips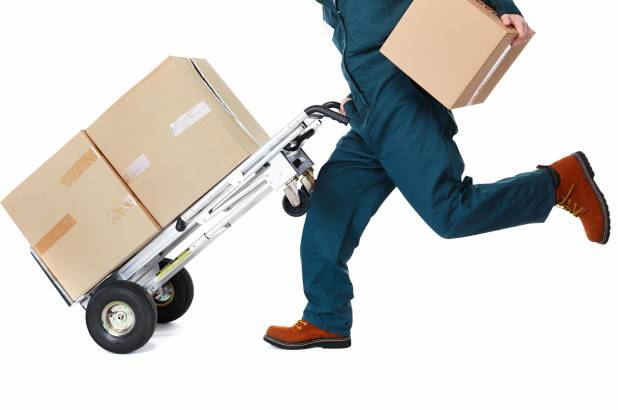 During the moving day, it's easy to get lost in the chaos of things and binge-move in just a few hours. Remember to give yourself a break and follow these refreshing moving day tips:
#12 – Pack a Cooler
As we said, sometimes packing can go on without a second to cool down. Pack some quick snacks and drinks in a cooler and keep it on hand for easy access. Your moving crew will appreciate it, especially on a hot Sacramento day. You want to ensure you and your moving crew remain well-hydrated throughout the entire moving process.
#13 – Managing Kids and Pets
It's best to keep any pets or younger children that can't help out of the way. Ensure you have available friends or family to watch over them while the move continues. The moving crew will be working diligently to get your move done in a timely fashion. Give them their space.
Post-Move
Moving is a part of life. And whether you're moving for the first time, or it's your 100th move, one thing remains: moving is stressful. That's why we created this list of 13 local moving tips to help ease the stress a move can place on one's shoulders. We hope you love your new home in the Sacramento area. It's a great place to live! You've made a wise decision. If any of these tips worked for you,
we'd love to hear about it
!